GRANTS
Together, with our community partners, we raise funds to invest in the health, education, financial stability, and basic needs of Washington County residents.  The funds raised and awarded have a purpose, a direct path to make the greatest impact in our community.  After the funds are raised each year, local volunteers work to determine where to invest your donation.  These volunteers are recruited from throughout the community, representing people from all walks of life who live and work in Washington County.  Grant review and fund distribution is a transparent process that anyone can join. For more information on how to get involved, please visit our Volunteer Portal to review existing opportunities. 
Community Impact Grants 
Your United Way of Washington County, MD supports a network of local human service programs that address community needs in a primarily collaborative manner. Funds raised are invested to improve the quality of life in Washington County. 
Funding Statement: United Way of Washington County, MD strategically approaches local community solutions through funding evidence-based programs focusing on Education, Health, Financial Stability, and Basic Needs in alignment with our Strategic Plan. 

Up to $50,000 in grants will be awarded per program or collaborative in the categories of Health and Basic Needs for the upcoming fiscal year (FY23, 7/1/22-6/30/23). Starting in FY23, all grants are funded for one year.
Grant Details
Click the blue link to see a detailed description of strategies and performance measures for each category:
To qualify, the program or collaborative must:
Be a project or program that works collaboratively across multiple agencies or be a collaborative legal entity. 
Be a 501(c)(3)  nonprofit in good standing (relevant to all program partners). 
Have a 3rd-party financial report from within the last two years.
Have support letters from all agencies' board of directors.
Be seeking funding for Health or Basic Needs projects or programs. 
The Community Impact Grant process starts every October when Letters of Intent for the upcoming fiscal year are made available to the community for 1 month. Letters of Intent (LOIs) for FY23 were available for submission October 15, 2021 through November 15, 2021. Selected applicants were invited to submit full applications and will follow the grant timeline as depicted below: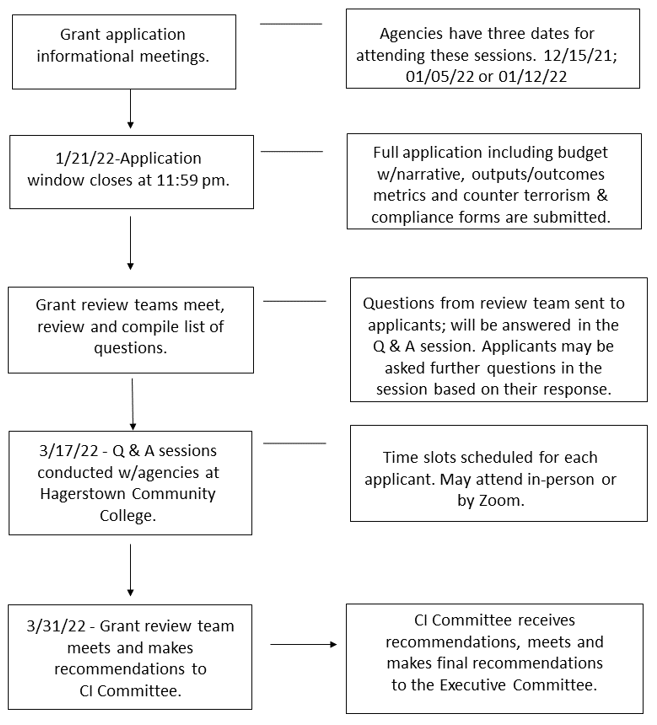 Next year, FY24 will be focusing on Financial Stability and Basic Needs.
Documents and Links:
Live United Urgent Needs Grants 
You asked. We Listened. Introducing a new low-barrier grant designed for non-profits that experience unplanned expenses as a result of unanticipated program needs, emergencies, or underlying situations. Grants are not meant for operational expenses, but may be considered on a case-by-case emergency basis.
Grant Details
To qualify under the terms of the grant, local nonprofits must:
Be a registered 501(c)(3) organization with a federal determination letter.
Serve the community in the areas of education, financial stability, health, or essential/basic needs.
Use requested grant awards in Washington County, MD for Washington County residents only.
Use requested grant awards for equipment and/or materials needed to address an emergency or unexpected project or program expense.
Be able to expend funds for requested use within 30 to 60 days of award (with supporting documentation).
Examples of requests that qualify for grant awards include:
Replacement of equipment due to irreparable failure
Repair of equipment
Replacement of items lost due to natural disaster or other major event
Unanticipated shortfall of funding donations such as federal/state or local grant discontinuation/termination
Unanticipated community need items
To apply:
This is a rolling grant and is typically offered monthly (with holiday exceptions) awarding up to $2,000 per month. Applications are accepted by the 27th of each month and are awarded to approved agencies by the second week of the following month. 
Nonprofits interested in applying for Live United Urgent Needs funds should apply via the webform: Live United Urgent Needs Grant Application.
Contact Kelli Tencer by email at kelli@uwwcmd.org or phone at 301-739-8200 ext. 104 for questions or a printable form. 
INVESTMENTS
Community donations and gifts to United Way of Washington County, MD are invested back into the local community and impact thousands of lives. Take at look at what we were able to accomplish last year, during the height of the pandemic!
Visit our Community Impact - Your Gift at Work page for additional information.